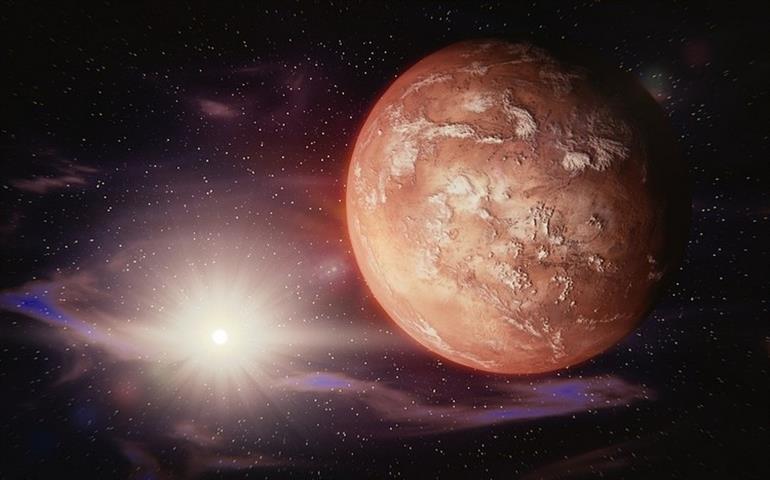 Aries – daily horoscope
Today you should be feeling especially intuitive, particularly where family members are concerned, Aries. It certainly won't be easy for anyone to lie to you. You might also think about making some repairs to your home, which you may have been putting off. You might spend at least part of the day alone meditating or contemplating your future. Your mind is clear and active, so this is a good time to do it.
Taurus – daily horoscope
A group you're affiliated with could meet today, perhaps in your neighborhood, Taurus. You should focus more on listening to what they have to say than on actively participating in discussions. You'll want to absorb every idea that comes up and seriously mull it over before expressing yourself. When you communicate, you should do it freely and openly. Your mind is both intuitive and logical, so expect to learn a lot.
Gemini – daily horoscope
A small gathering, perhaps in your home, could bring up the subject of the world economy and what it's going to mean to individuals. You could be contemplating and maybe even discussing your financial future. This is a good time to make such plans, Gemini, as your mind is logical and intuitive today. Write down any ideas or insights that come your way. You'll want to remember them later.
Cancer – daily horoscope
Today you might receive a visit or phone call from a friend you haven't seen for a while. An intense and emotional conversation could follow, Cancer. Stimulating news could have you preoccupied for a while. Spiritual activities could also take up much of your time. Listening to someone speak might cause you to feel more insightful than usual. This will enable you to apply good common sense to abstract concepts.
Leo – daily horoscope
You generally enjoy philosophy, metaphysics, and other forms of higher thought, Leo, but today you could find yourself almost obsessive about them. You might decide to sequester yourself and concentrate on these concepts. This is a great day to do this, because intellect combines with intuition to enable you to understand and make sense of abstract ideas. You can apply them to your everyday life. Go to it.
Virgo – daily horoscope
Social events, perhaps involving a group you're affiliated with, could involve discussions of some deep subjects, such as philosophy, metaphysics, science – or all three. Your mind should be quick and sharp today, Virgo, on both a logical and an intuitive level. You'll probably soak up just about everything you hear. You could give it a lot of thought, and yes, you should be able to make sense of it all.
Libra – daily horoscope
Today you might decide to help someone with repairs or decorating in their home or perhaps a church or school. You'll have a lot of good ideas welling up from deep within you, Libra, and be astute enough to put them to work in the real world. You might not feel much like talking, however. Therefore don't be surprised if communication is more subtle than overt today.
Scorpio – daily horoscope
An engagement with a current or potential romantic partner could involve a lot of communication on a subtle level, enjoying each other's company while not saying much. You're likely to feel especially passionate today, Scorpio. Buy yourself some new clothes and look your best. Your aesthetic sense is especially high right now. You could also give some thought to artistic projects. Inspiration could be all around you.
Sagittarius – daily horoscope
An increased psychological awareness and heightened intuition could have you tuning in to the thoughts and feelings of family members before they even know what they want, Sagittarius. You might be able to pick up the thoughts of strangers. This is the day to trust your inner voice, especially when it comes to making plans with others. While this atmosphere lasts, they might not be too communicative or inclined to say what they want.
Capricorn – daily horoscope
Social events in your neighborhood could focus on families, with everyone bringing their children. You might spend time telling stories today. Someone with whom you're in contact could be dealing with some powerful emotional issues and not want company. There isn't much you can do, Capricorn. Let the person know you're there and then leave them alone. In the meantime, others are in a festive mood. Have fun.
Aquarius – daily horoscope
Others, particularly family members, might be rather quiet today. It could seem as if everyone is running around like crazy but not sharing what's on their minds. You'll have to trust your intuition when you need to know what they're up to, Aquarius. Writing could come from deep within, whether through letters, poetry, or novels, allowing you to express a facet you don't often see. Use this spiritual gift and dig deeper.
Pisces – daily horoscope
Communication, particularly with family members and romantic partners, could take place more subtly than verbally today. Nonetheless, Pisces, you'll sense strong love and support from e one. Romance, especially, should be intense and sensual, so this is a great day to schedule an evening alone with a lover. Inspiration for creative projects, particularly in the home, could well up from deep inside. Don't suppress it – let it flow.